Product Description
William Tell Archery
Concept Crossbows
50 lbs PIRANHA  Multifunctional Tactical compound pistol Crossbow (4 projectiles)
CAMO VERSION
This is the tactical version of the Piranha pistol crossbow , it has a tactical light and a laser sight on top of the regular set up as shown in the display pictures.
We sell spare parts for all our products , unlike other brands who require you to send your item back to them so they can charge you for service , S&H and other charges.
This multifunctional pistol crossbow can shoot 2 wing bolts , 6 mm steel balls, fishing forks and short prince arrows . It features a steel ball magazine with capacity of 15 , which feeds steel balls to the crossbow as the balls are being fired.
Sturdy build , nylon handle aluminum body and steel limbs .
Cool compact design , because its compound bow it can still pack a punch with its small size.
The fishing hook can penetrate a carp through 2 1/2 feet of water at least.
Unlike other pistol crossbows in the market with a plastic frame and aluminum limbs, this pistol is made out of high quality nylon and steel limbs, making it more durable than most pistol crossbows.
Features
Compound bow
Sturdy build , made out of aluminum , most of the pistol crossbows in the market are made out of plastic.

WT-PIRANHA MULTIFUNCTIONAL FISHING TACTICAL PISTOL CROSSBOW WITH MAGAZINE – YouTube
Video will open in a new window
[isdntekvideo]
Shoots:
– bolts
– fishing forks ,
– 6 mm steel balls
– prince arrows (short bolts)
15 steel ball magazine.
Automatic ball feeding system.
Specifications
Weight 1 kg
active range:164 ft
Tension test draw: straight draw: 50 lbs
FPS: 110 FPS
Dimensions:31*34*15
Draw weight: 35 lbs
What is in the package:
– 3 X fishing bolts
– 3 X bolts
– 3 X short prince arrow
– 20 X 6 mm steel ball.
– 3  8 feet fishing lines 
-Tactical Light
– Laser sight (LR44 batteries not included)
Compact and powerful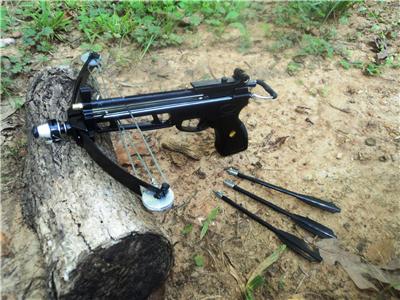 Fishing line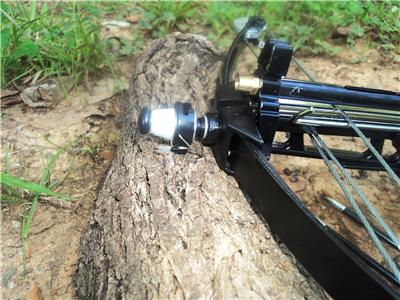 Safety lock and cocking assistance aouto loading system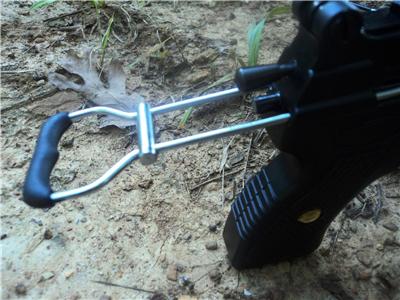 15 steel ball magazine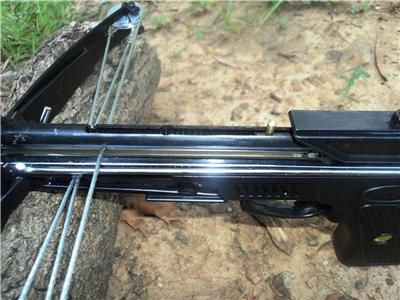 Safety tips
Please make sure you follow the steps below to cock the string:
Put the SAFETY SWITCH in FIRE Position;

Pull the string backward to the end, until you here a click sound or the string hit the very end wall;

Now you should see the SAFETY SWITCH in SAFE Position automatically and the string has been cocked and locked. Before fire a shot, you will need to put the SAFETY SWITCH in FIRE Position, and then you can pull the trigger to fire. Never dry fire the crossbow, which means you will need to always fire with an arrow on it.
Disclaimer
You must be over 18 years old to bid, buy and/or use crossbows and pistols. We are not responsible for any damages arose from the use of this item. Please consultant your local regulation before you purchase from us.
---