PURCHASE IS VERIFIED BEFORE WE SELL PARTS OR OFFER TECHNICAL SUPPORT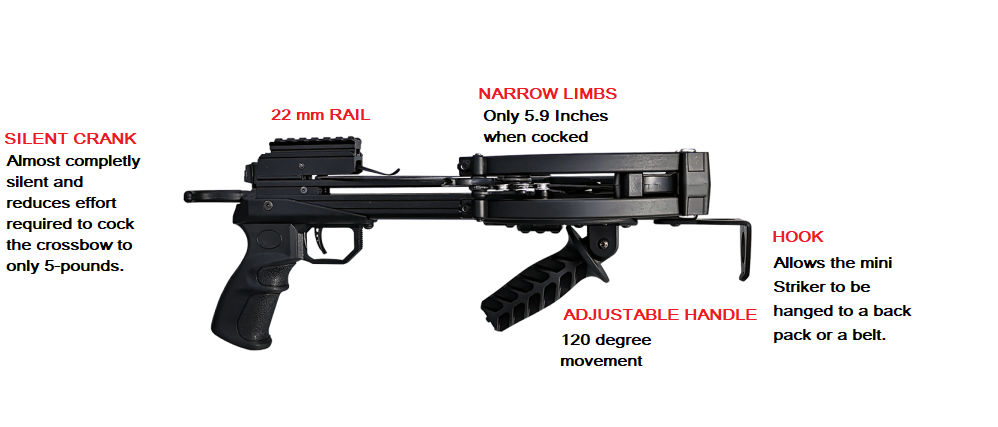 WITH BUTTSTOCK
The MINI STRIKER  is  the fastest and most powerful and narrowest pistol crossbow in the market by far. This crossbow's power comes from a narrow limb system that increase power stroke, enabling the MINI STRIKER to shoot up to 330 fps (using lighter bolts) something unheard of in the world of pistol crossbows until now. It  weigh-in just 2.46 lbs and, when cocked, measure a narrow 5-inches wide, making them ultra-maneuverable in the field. The Striker Mini can shoot 7 inch practice arrows and 10″ broadhead capable carbon  bolts. The MINI STRIKER comes with its own crank mechanism integrated which is almost completely silent and very easy to pull .
It shoots:  WT carbon bolts with steel tip 10.5 inch
6 inch aluminum crossbow bolt (as shown on the listing it is the regular aluminum bolt most crossbows use)
Kinetic energy: 25.25
ft⋅lbf
Crank system draw weight: 40 lbs (3x mechanical gain) 
Cocked axle to axle with : 5″Resting axle to axle with : 8.75″
Length: 15″
What is in the package:
EASY TO TAKE IN THE FIELD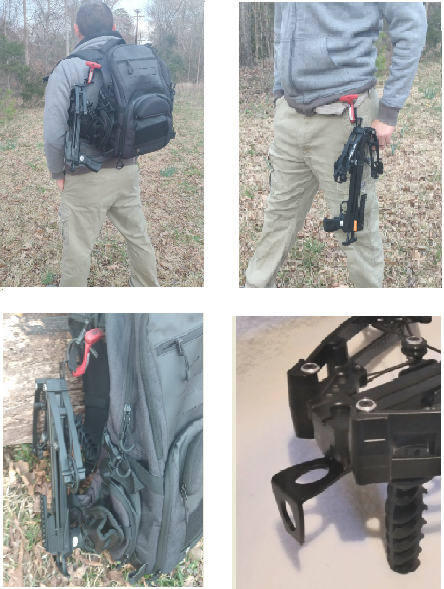 ADJUSTABLE VERTICAL HANDLE (IT CAN TURN 120 DEGREES AND FORWARD AND BACKWARDS)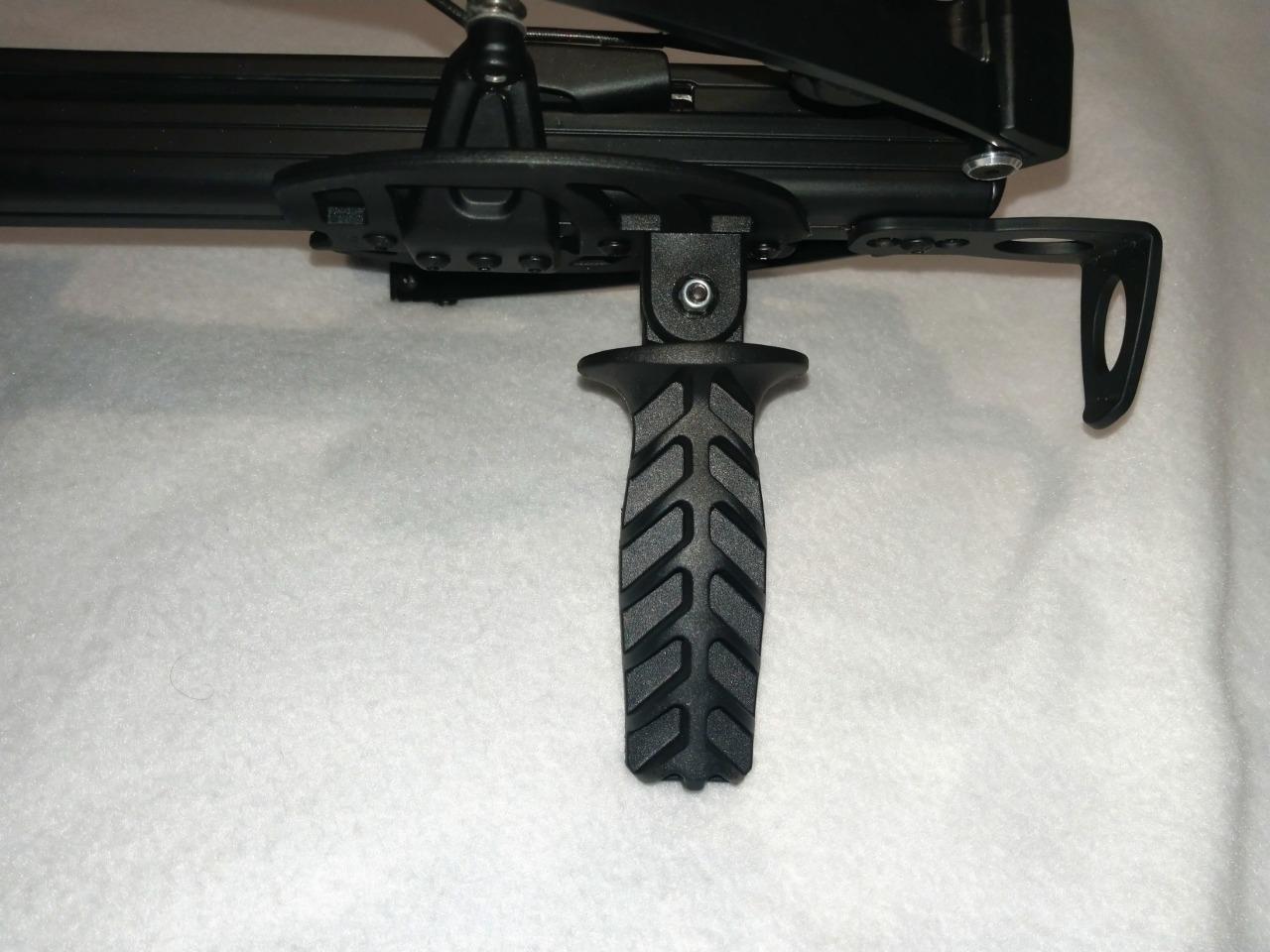 NARROW LIMBS 8.75 INCHES RESTING , 5 INCHES COCKED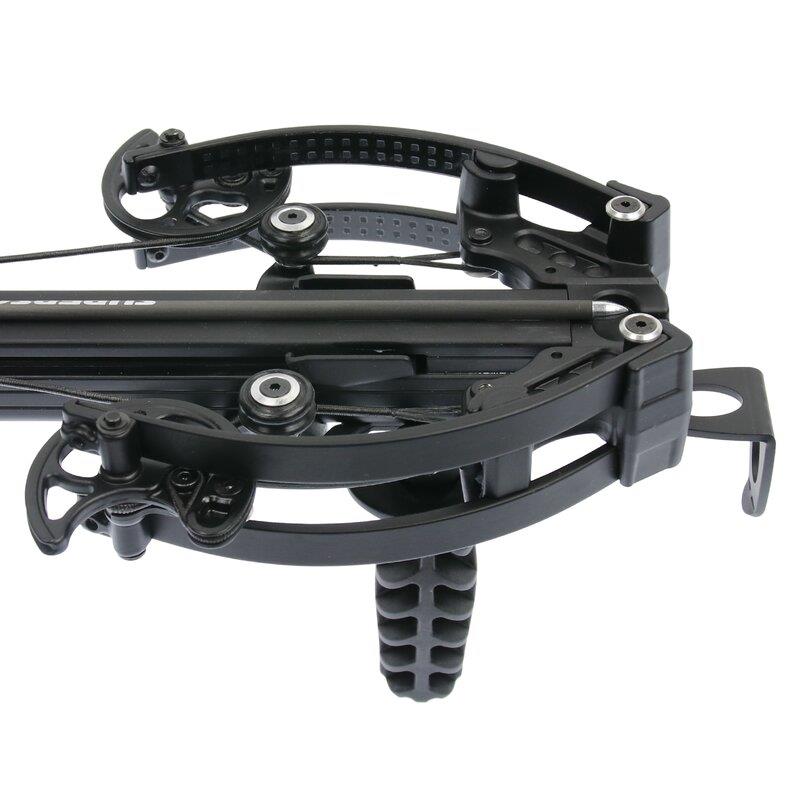 William Tell Archery Supplies
Average rating:
1 reviews
Jul 14, 2022
By far the best
I received my mind striker about a month ago and wanted to wait for a reveiw and I can say this bow rocks and they are the best company to deal with by far they have helped me so much words can not explain, I received a steamboat stinger 2 today after months of waiting and I will say it is complete junk all plastic piece of crap complete waste of money I am yet to contact the company for my money back but if your looking for a cross ow this is def. The place to go and the mini striker is 100 times better than this unsafe plastic piece of straight up garbage! I will be getting the rev. Draw as soon as it becomes available and the mongoose and wanted to say ty for being very customer friendly and to all buyers do not buy the steamboat litterly like a kids toy that fires off before you even pull the trigger with no safety!!! With that being said I am in love with myinistriker!!!!