Mini Strike Pistol Crossbow Special!
Powerful pistol crossbows with high fps and integrated 3x leverage crank. Suitable for hunting big and small game while offering great portability. Mini Strikers are the most powerful pistol crossbows in the market today.
150lb MINI STRIKER Pistol Crossbow with Reverse Limbs
If a 120lb pistol is not impressive enough , the 150lb version gives you 40% more power allowing you to have an even more rewarding hunting experience.
150lb MINI STRIKER Specifications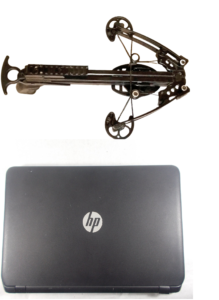 The mini Striker pistol crossbow is as big as a laptop!
mini Striker pistol crossbows can be easily carried